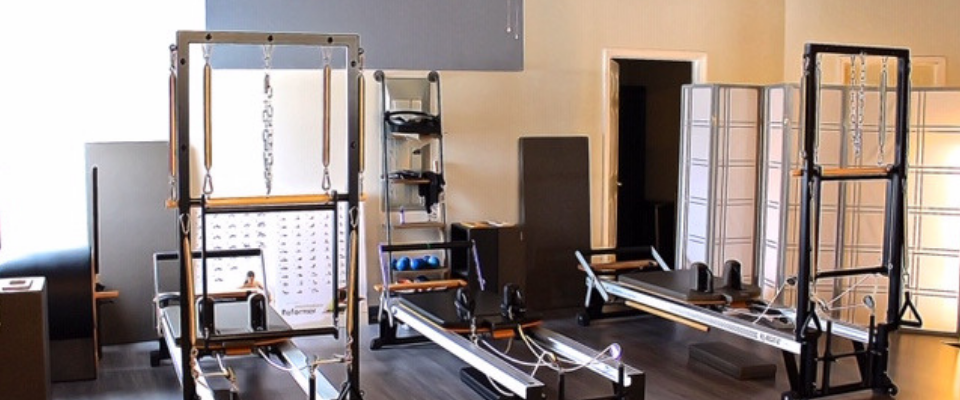 Pilates, a system of therapeutic exercises focused on movement that tones and balances muscles down to the joint, is now offered in group classes! Our reformer classes offer you strength, flexibility, coordination and balance as well improved posture, pain relief from physical imbalances, and more.
These small, intimate classes only hold 3 students, offering you personalized attention to learn and modify movement. You will focus on supporting the body as a whole, finding length, core strength and increased body awareness.
What is a Pilates Reformer?
A Pilates Reformer is a versatile piece of equipment, that allows you to perform a variety of exercises benefiting every muscle in your body down to the very joint. It consists of a bed-like frame with a flat platform, springs, bars and straps. Body weight and resistance use all these tools to strengthen your muscles. Reformers are adjustable to differing body sizes, strengths and skill levels making it accessible to beginners and advanced students alike.

One of the best things about the reformer is its versatility! Exercises can be done lying down, sitting, standing, pulling, pushing, upside down, and sideways. In other words, the reformer can train many parts and dynamics of the body in many different ways with just one relatively sleek piece of equipment.
Are classes right for me?
Specialized equipment with minimal weight-bearing movements and our knowledge welcomes people of all ages and abilities to class. Even those brand new to using reformers can use these classes for cross-training, general fitness, pain relief and gaining stability. Others with old injuries that don't fully recover or those looking for prevention of injuries or surgeries can benefit from this program.
My friends and I want to try a class together, can that be arranged?
We offer Private Pilates sessions, as well as duo and trio sessions which can accommodate two or three students. Contact us to schedule a special session just for you or for you and friends or family.
How much does a class cost?
Group reformer classes are a wonderful way to experience the benefits of reformer work, with reduced expense to you.
Single Group Class $35
4 Group Class Package $130 (expires 12months)
8 Group Class Package $240 (expires 12months)
Do I need to pre-register for class?
We highly suggest pre-registering for any of our reformer classes, as space is very limited. Walk-ins are accepted as space allows.
<<

Schedule for Mon Dec 17, 2018 - Wed Dec 19, 2018 >>
Mon
12/17/2018
Tue
12/18/2018
Wed
12/19/2018
11:00 am
12:00 pm
Sign Up